Load up this soundtrack while reading this blog post: http://somafm.com/defcon/ I'll wait.
Alice in Hackerland by Tess Schrodiner
Winning artwork for DEFCON 22
Redefining The Experience
This screenshot circulated on Twitter
of a hacking tool itself being the vector for mass pwnage.
Amusing, but totally unsurprising.
Mostly, this year was about seeking my place, teaching others, and enjoying the synthesis that comes from mingling knowledge. i.e. making friends and having conversations. This is the true value of any con, because we can learn the rest online. We can watch all the talks on YouTube. What we can't do is talk and wave our hands about and toast to a point that everyone agrees on.
However, the meds don't fix everything. The distracting and painful sensation of anxiety is quelled, but it doesn't fix my awkwardness, the times I'm not sure what to do or what is appropriate. I'm still combatting 38 years of overcompensating, learned behaviors I used to avoid anxiety. The extra serotonin doesn't cure my autism or sensory processing disorders. Sometimes the background noise is too loud and I can't tell what people are saying. Sometimes I'm not sure how to engage in conversation with people I want to talk to, or leave conversations with people I'm no longer interested in.
Sometimes I lock up and don't know what to say, so I stay silent when I should be talking. Or the opposite, a more recent coping mechanism where open my mouth anyway, and let words pour out without any filters. Which works until it doesn't, and I say the wrong thing.
The meds really help in all these cases, because when I do make mistakes or face uncertainty, I'm not assaulted with waves of anxiety that pull me under onto the hamster wheel of self-assault. I'm much more resilient and can keep rolling.
Why Spot the Fed
when you can bring the Feds to you?
This has all improved my experience at DEFCON a hundredfold. It's a much more social event than it has been in years past.
I'm-Poser Syndrome
*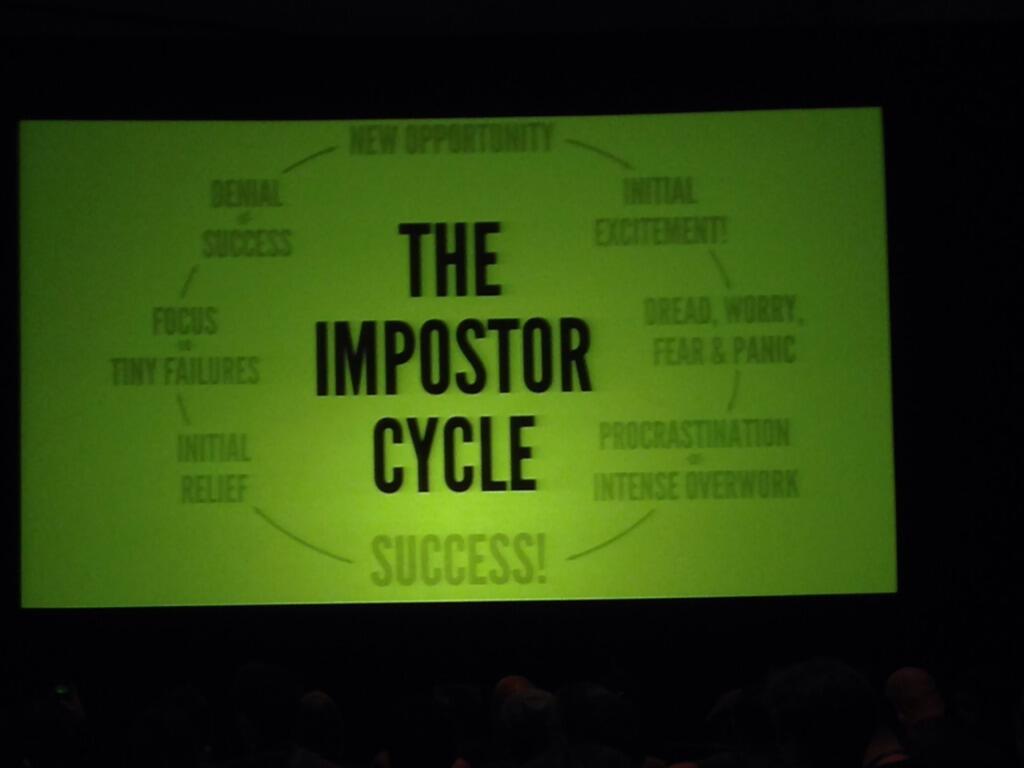 Image appears to be from a conference someplace.
(Which is all very ironic, since next week I'll be giving a 3 minute pep talk to others about how "everyone has something to contribute to DEFCON," to give people confidence to submit their own talks. More on this in a second.)
Other newbies overheard, and joined the conversation, and I got to chatter on about security theory and the state of infosec and tell anecdotes from past DEFCONs.
It became clear I did belong after all. And I did have something to contribute, even if I still didn't know exactly how.
Over the course of the weekend, I spoke intelligently about all kinds of topics that I normally keep wrapped up in spline-packages that I only open when the topic is brought up: physics, autism, psychology, science fiction, politics, privacy, libertarianism, biohacking, transhumanism, culture, social engineering, current events, shenanigans at past DEFCONs, computer history, hacker and crypto history, Masons, and some other topics I no longer remember because eventually I got drunk and it's difficult to remember 4am conversations anyway.
So I'm in a strange spot. I'm not a super-expert in any one field, but I have something to say in all fields. I belong at DEFCON, but I am still seeking some way I can give back. I continue my quest to find a topic for next year's talk. The whole con I brainstormed ideas for projects I could turn into CFP next year.
Biohaxx0r
The program lured me into a meeting to plan a possible Biohacking Village for DEFCON 23.
DEFCON villages are rooms dedicated to providing hands-on learning of the basics of various subjects. In the Lockpicking Village, there are lockpick sets and locks and helpful teachers around so you can learn to crack physical security. The Tamper-Evident Village provides sealed envelopes and solvents to open and reseal them without revealing they've been open. The Hardware Hacking Village provides solder and circuit boards and people who will teach you schematics and soldering skills. Each village also provides regular talks and demos at entry level so everyone can learn.
The Biohacking Village would do the same. One definition of "hacking" is using technology for something other than its intended purpose. So one could view biohacking as leveraging biology for something other than its intended purpose. And we'd show people how to do that at DEFCON.
We kicked around ideas for hands-on activities, talks, and advanced equipment for onsite demos. We had enough content ideas to start our own con, but as we discussed, we want it at DEFCON for the same reason the other villages exist: To give all DEFCON attendees a chance to go outside their regular sphere and learn something new. Moreover, cross-pollination between these two fields can help guide biohacking culture with our 40 years of cumulative hacking ethics.
Thomas Watson, 1943.
This was the dominant culture driving computer tech until the 1970s.
I can't get enough of this computer history shit.
Yep, the very first Apple computer
with a custom wooden case mod.
Ever since then, most disruptive computer technologies (or popularized disruptive uses of previously developed technologies) have come out of people's garages. Microsoft, ISPs, Netscape, Amazon, ad nauseam.
Miscellania
I did see a couple of talks of note this year.
One was the controversial Diversity Panel which I tweeted a great deal about. It was so controversial, in fact, that it deserves a whole separate post. It's a good catalyst for discussing the larger diversity and accessibility issues at DEFCON. These problems have existed all along, and the time has finally come to talk about them.
Monies.
I hope you type in the key so I can lulz at you.
The makers of defcoin hope people will use the coins to learn more about cryptocurrencies and to test vulnerabilities and try out new ideas. Apparently there were also clues to the
badge puzzle
in the blockchain, so that was awesome. I'll probably look for them while I'm there if I can figure out how to work this thing.
I feel like I have a much better grasp on cryptocurrency now. I got the wallet and have cashed in my 100 coins. I may even do something with them. Not sure what yet.
I don't know much about the DEFCON badge this year, other than that it lights up, has a USB port, and the light patterns change when you touch various combinations of the metalic letters "DEFCON". A friend of mine hacked his to spell his name in binary.
Do what this badge says and
Do No Obey!
Also, this statement is false.
One of the most exciting things that happened to me this year is that I finally got hold of two l33t badges: The Queercon Badge and the Telephreak pager. I snagged them both within the same hour.
Hi! Hello! Wave!
For those wondering how to snag l33t loot, it's all about the luck. That's how we got the FailBlog party badge and the Facebook party badge, both from, uh... DEFCON17 I think.
Nevertheless, it is the single most cool badge I have ever owned. There is an array of 70 white LEDs, with 5 colored LEDs on either side. A series of animated images and words flash past on the array. I've been unable to read the words, because they always flashed past while I was wearing it (when it's upside down to me), nor do I understand why and when it displays what. Even back home from the con, I'm seeing the little stick man doing animations I hadn't seen at the con. And the colored lights do something now and then.
I did learn at the Queercon pool party that it syncs with other badges, and increments the number on the side lights. Two stick figures wave at one another during the sync. It's also supposed to increment something for each Queercon event you attend, tho it didn't seem to be working at the party I attended. And people with black badges increment it in a more special way. That's all I know. I'm waiting for the full writeup. It's a beautiful and sophisticated badge and I will treasure it and bring it to future DEFCONs. Plus it looks like a floppy disk.
As with Queercon, I wasn't sure what to expect. I didn't see anyone there. I wasn't sure if I should start asking people. And of course, at DEFCON, you're always on alert for a prank. So I didn't want to make a big show of anything. (See above with the FailBlog party badge. Yes, it was a prank.)
But after standing there for awhile, the Telephreak guy showed up, and OMG I GOT A TELEPHREAK PAGER AND YES I'M WRITING IN ALL CAPS BECAUSE 7 DEFCONS AND NOW I CAN GO TO THE TELEPHREAK PARTIES.
A working pager.
And a SIM card. Not sure what it's for.
(I'm scared to put it in my phone.)
I am clearly very happy about this.
So, the secret to getting l33t party invites and badges is to follow the right people on Twitter and pay close attention.
Outside of that, and the EFF party on Thursday night, I spent most of my late-night party hours at "Bar Con." There's this casino bar in the hallway at the Rio between the con area and the rooms. There's plenty of space to spill out into, and the point is you hang there from midnight until the sun comes up. It's quiet enough to converse, and you can snag people as they walk past. I hope there's a similar space at the new location. (SPOILER: DEFCON is moving next year.) I've met so many new people at Bar Con.
In random trivia: Our room number had the following characteristics: palindrome, binary, and prime. A few people tried to guess it in Twitter, and for the one who guessed 10001, you win! But then, I like you lots anyway. *wink* (Yes, I'm flirting in a blog post.)
Then in the spring, when open calls for CFPs begin, we'll run another webinar on what to expect and how to write the actual talk.
So take a little advice from this big mean Dalek:
I know I plan to!
Whatever you're working on, and whatever I end up working on, I hope to see you next year!